October 11, 2020
Africa 101: The Wake Up Call the new book written by Ambassador Arikanna is a book about the "hunters" and the "hunted." The hunters are Africa's exploiters, slavers, colonizers, and neo-colonizers, and the hunted are the African people who survived against severe odds.
In this book former African Union Ambassador to the United States Her Excellency, Ambassador Arikana Chihombori-Quao, MD. tells the story of Africa in her usual in-your face style. Although she served as a diplomat, she says that being diplomatic about the real issues facing Africa will do us no good.
She warns in this book that the hunt is still ongoing and calls on Africans and people of African descent all over the world to rise up in defense of our beloved continent. Using personal stories, her father's accounts from the village of Chivu in Zimbabwe, and solid historical references, Her Excellency, Ambassador Arikana Chihombori-Quao, MD. educates, motivates, and challenges the status quo with respect to western countries' abuse of Africa. This book will challenge you to your core and move you to action.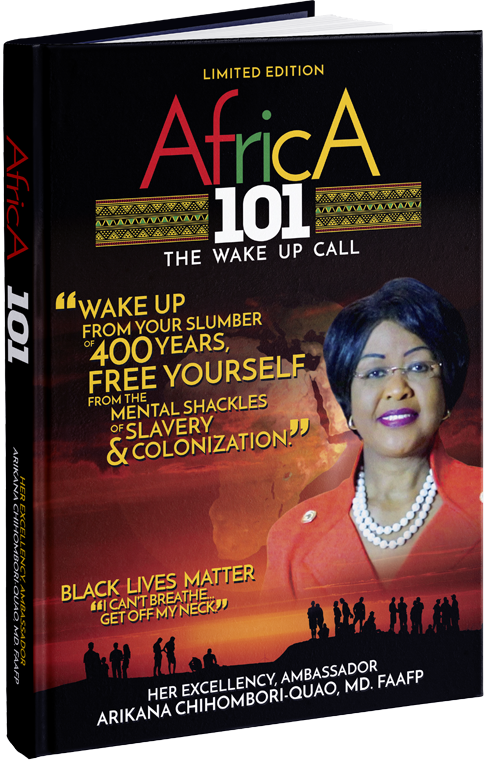 Africa 101 The Wake Up Call is not only an in depth and informative read about the history, struggles and background of colonialism in Africa but it is also a hopeful, mind-altering business-centered recipe for mining, cultivating and retooling Africa's greatest commodity her people!
This book is a treatise on changing the mindset of those who would continue on the road to destruction at Africa's expense and re educating those towards a new paradigm, one which is full of an abundant life for all by approaching the motherland on her own terms, with respect.

Colonization is over! That will never happen again. But her resources are still being hunted by governments who fail to see the true wealth of the continent. Africa is now positioned to rise above the ashes and mental shackles of post-colonialism and emerge as a world leader in raw and natural resources of land and mind.


Africa 101; The Wake Up Call is an innovative manuscript full of incredible surprises. Not just literary ones, but technological ones as well. At the end of each chapter is a QR (Quick Response) Code where readers can be transported to a video of the author giving more insights with carefully curated and exclusive information for the reader about the chapter they have just concluded.
This is an amazing integration of old-world technology (the book) with new-world innovation (the smartphone) which gives the reader a small glimpse into the mind of the author and her hopes, dreams and future aspirations for the emergence of a new Africa. An Africa who leads in all areas of intellectual, technological and human relations innovation.

Do you hear that? It is the new day of Africa and Africa is calling her children around the world to come home. Her Excellency is on a mission, saying, "I knew there was disrespect for the Africans but I just didn't realize how profound the disrespect was.
All the good work of well intending people has been tarnished by a handful of just a few who disregarded their efforts to the point of being useless. Through the book I am hoping to continue to educate and inform the people to provoke the much-needed conversations about the strategies in place to brainwash black people."

"Sometimes, it's the things we don't think about that have the biggest impact on the world around us. Only through information can we make better decisions. The long-term effect of a single, needlepoint move can deeply impact the future beyond our understanding. And now, what will we do know that we know more?" Steve Kidd, host of Thriving Entrepreneur.
You can get the book on Amazon: https://amzn.to/38xzozj
According to The UCLA African Studies Center "In Africa 101: The Wake Up Call, Her Excellency Ambassador Arikana Chihombori Quao MD uses personal anecdotes, her tenure at the AU, and historical references to highlight the struggle, discrimination, and violence that Africans and their descendants have endured.
From the consequences of the Transatlantic Slave Trade to the current need for the BlackLivesMatter movement, Dr. Chihombori Quao's book issues a call for action and outlines plans for initiatives and a timetable for Africans on the continent and in the diaspora, along with friends of Africa, to dismantle stereotypes and end racism sooner rather than later.
Her Excellency Ambassador Arikana Chihombori Quao MD is the former African Union Ambassador to the United States. Since her departure from the AU, she has been finishing her forthcoming book and speaking about her work with The African Diaspora Development Institute (ADDI https://ouraddi.org/). Prior to her appointment as Ambassador, she practiced medicine for over 29 years, mobilized African health professionals to address healthcare needs, and advocated for the safety and well-being of all, specifically women."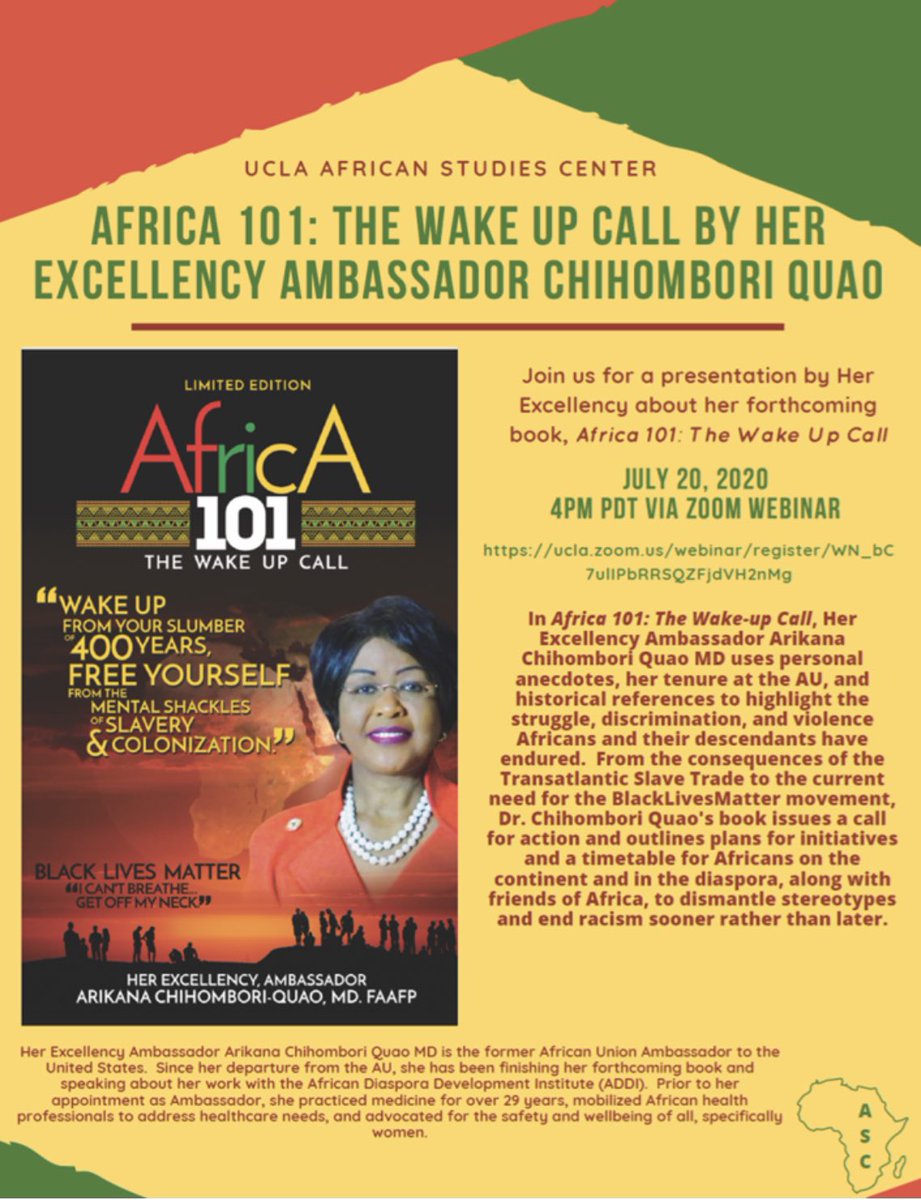 The following paragraphs are from book reviews of Africa 101 The Wake Up Call.
Review by Marcellus Okenwa "The time is ripe for Africa to wake up. I have been following the lectures and interviews of Her Excellency, Dr Arikina Chihombori on YouTube . Now that a book that gathers all her lectures has been realized, I am indeed grateful. The book is speaking to all Africans irrespective of ethnic, cultural and religious belonging.
The book touches every aspect of Africa, especially the colonial cruelty., starting from the Berlin conference of 1884-1885. As a professor in African legal history, I recommend it to all, even to non africans so as to know with exatitude the wound the Europeans inflicted to Africans by looting all from them." Marcellus Okenwa
Review by David Robert Grayson "This book deserves the highest rating. As a student of African and African American history, this work has allowed me to expand my knowledge by reinforcing past information and introducing vital new information relating to the African Diaspora, and the Continental Africans. Family, separated by tragedy, abuse, and manipulation of the highest degree! This book is truly a road map for reconnection."
Review by Brander Flomo "So my friend was reading this book to me daily which was fun and at some point I decided to buy it and continue reading as my friend got busy with some personal stuff for few days and I didn't want to wait.
I'm on chapter 12 already and it's Should be a must read for every black persons of Africans decent. Every child that can read should be given this book to read. They must understand the history before their generation repeats the mistakes."
Review by Dr Ambrosia Kweh Mondoa "Dr. Chihombori-Quao's book Africa 101 is a critical text for those who want to know Africa's current state of affairs – the consequences of the Transatlantic Slave Trade, colonialism, and the Berlin Conference, the side effects we're still experiencing today, and the importance of the uplift that can come from pan-Africanism.