July 05, 2019
"The definition of an ultimate artist is one that delivers on every possible level of enlightenment and entertainment. This artist must provide the strongest lyrics that guide, motivate, empathize, accurately report, and at the same time that artist must heed the very messages they put forth. If such an artist exists, then surely Joseph Hill and Culture are such an example." This is a Paragraph Quote written by Seth Nelson & Daniel Nelson which clearly sums up the overall mystikal and profound message which the authors are trying to eloquently express in their outstanding article written about the great inspirational and motivational music career of Joseph Culture Hill.
The following article is one of the very best articles ever written about the real inspirational and motivational purpose of reggae singer/songwriters and the power of reggae music. This exceptionally well written article (by Seth Nelson & Daniel Nelson) focuses on the uplifting musical career of the great visionarry and prophetic Jamaican Reggae Artist known as Joseph Culture Hill.
Eventhough Joseph Culture Hill the original Lead Singer/Songwriter of The Great Reggae CULTURE Group moved on to Zion in August 2006, his music continues to inspire and to uplift people worldwide. Today his son Kenyatta Culture Hill is now the current lead singer/ songwriter of The CULTURE Group and in this mission he is steadfastly continuing to carry on the outstanding legacy of his father and the musical legacy of CULTURE.
The following article was written in 2003 By Seth Nelson and Daniel Nelson and is here reprinted in its full entirety for all The Reggae Planet Radio2177 fans and listeners to experince and to fulljoy. We at REGGAE PLANET RADIO2177 acknowledge this article as a true Excellent & Magnificent treasureable gem worthy to be read over and over again and to be shared nationally and internationally worldwide to all generations. This article is especially outstanding because of its profound perspectives in terms of highlighting the vision mission and the great uplifting quality in the overall inspirational and motovational power of genuine and authenthic musical artistry, melodies, songs and lyrics.
Joseph Hill And Culture:
An Inimitable Career, Growing Ever Stronger
Photo courtesy of Rounder Records
By Seth Nelson & Daniel Nelson (August 2003)
Culture, fronted by Joseph Hill, is one of music's most fluid, consistent and potent groups ever to grace a person's ears. Culture is a group whose passion for their music combined with a spirit that burns ever stronger, has engaged fans for nearly three decades with heartfelt, honest and always uplifting messages. June of 2003 saw the release of the reggae band's 30th album, a milestone few recording groups have ever accomplished. Their longevity and ability to remain effectively fresh and close to the hearts and minds of fans throughout the years is a direct result of well-defined roles the group takes on within their music. Together, these roles serve the purpose of bettering the lives of listeners and in turn propel Culture to one of music's truly dedicated groups.
Culture's success has never depended on copying the latest sound to merge with their own, and they have never relied on falling into the trendiest fashion. Culture's dynamic sound and their fans' continued dedication to the group is aided by the simple fact that they continue to make great reggae without any apologies. Over the years Culture has experimented with varying sound formations, including the addition and absence of harmony singing, horns and acoustic sounds. Whatever the sound though, the outcome is always the same: music that reaches straight to the soul and not only powers the feet to dancing, but creates the impulse to get up and make lasting change within the world.
Culture's initial impact on the world came about with the formation of the Soul Defenders, one of the finest backing groups to ever come out of Jamaica. The Soul Defenders were comprised of several talented musicians from the Linstead, Jamaica area and formed around 1968. Joseph Hill, or 'Culture' as he was known, served as the band's sometime lead vocalist, frequent backing vocalist, percussionist and songwriter. The group came to Coxsone Dodd's famed Studio One institution in 1971 and immediately began recording and backing the finest of Jamaican singers, among them Dennis Brown, Burning Spear, Alton Ellis, Freddy McKay, The Heptones and The Abyssinians. Not only did the Soul Defenders back these singers, but they graced the songs that have helped to define these singers and the reggae genre in general, including Freddy McKay's "Picture On The Wall," Dennis Brown's "No Man Is An Island" and The Abyssinians' "Declaration Of Rights."
Joseph Hill's Soul Defender experience enabled him to learn the many crafts within the music business. As lead vocalist, Hill fronted several songs during this time, including his first in 1972 with "Behold The Land," followed by "Take Me Girl" shortly after. Working under master producer Coxsone Dodd and being surrounded by the highest caliber of artists and musicians rubbed off on Joseph Hill and created an impact that still remains with him to this day. After The Soul Defenders left Studio One in 1974, Hill was soon approached by his cousin Albert Walker to form their own harmony trio singing group, and with the addition of a third singer, Kenneth Dayes, Culture was born in 1976.
The group actually started out under the name the African Disciples, but soon switched to Culture and found a home recording for producer/label owner Joe Gibbs. As evidenced by Culture's 1977 debut album, the acknowledged classic Two Sevens Clash whose almost unprecedented militantism and apocalyptic visions made them favorites not just among rastas but English punk as well. As a result, the group lived up to their name and introduced listeners to their unique blend of cultural and socially conscious reggae music. Their work for producer Gibbs and engineer Errol Thompson, collectively known as the Mighty Two, not only put Culture on the musical map but made them a group to continually revisit for those seeking powerful reggae. Culture only remained with Gibbs for a little over one year, the output of which is contained in three albums, Two Sevens Clash, Baldhead Bridge and More Culture.
While the Culture/Gibbs period produced many memorable and classic tracks, Hill and Culture were not happy and soon found a home with Jamaica's first female producer, Sonia Pottinger, who used Duke Reid's Treasure Isle Recording Studio and released songs on her own High Note label. This period yielded five total albums, including an all dub instrumental record. With each subsequent release, Culture had the ability to draw out the best that the producers had to offer, continually offering songs and messages that expanded in both the group's sound and understanding of the world.
Next to Two Sevens Clash, the title song from their debut, the Culture/Pottinger period produced some of the best-known Culture works, especially "Stop The Fussing And Fighting," "Love Shines Bright," "Natty Never Get Weary," "Trod On," "International Herb" and many beloved others. This Culture/Pottinger period not only produced much memorable material but also allowed the Culture message to spread throughout the world with record distribution from Virgin/Front Line, based in the U.K. The group secured overseas concerts beginning in 1977 with their first appearance in the United States, followed the next year by a spot in the prestigious lineup at the Jamaican One Love Peace Concert, headlined by Bob Marley & The Wailers, Dennis Brown, The Meditations, Peter Tosh, and most of the other top reggae groups of the time. Culture toured throughout the world over the next few years, further establishing themselves as one of the top-notch groups on the reggae scene.
By 1982's Lion Rock release, Culture had dismantled and Hill alone recorded the album backed by his old Studio One partners, the Soul Defenders. Further proving Culture's worldwide stature, Joseph Hill along with members of the Soul Defenders toured heavily, including a December 1982 performance for the historic John Peel BBC Sessions. Culture's feverish pace picked up after the reunion of the original triad of singers, Hill, Walker and Dayes in 1986. Their next three albums between 1986 and 1988, Culture At Work, Culture In Culture and Nuff Crisis, featured Culture backed by the Roots Radics, still continuing on with strong and upful roots reggae in the face of a heightened public appeal towards the more regressive dancehall themes.
The 1990's saw Culture grow towards a more self-reliant approach with their music, with Joseph Hill picking up the great majority of production duties beginning with 1989's Good Things. Kenneth Dayes left Culture in 1993 to pursue a solo career, leaving a harmony singing void that would be filled by various people over the next several years until 1999 when Telford Nelson joined the group, where he along with Hill and Albert Walker, remain to this day.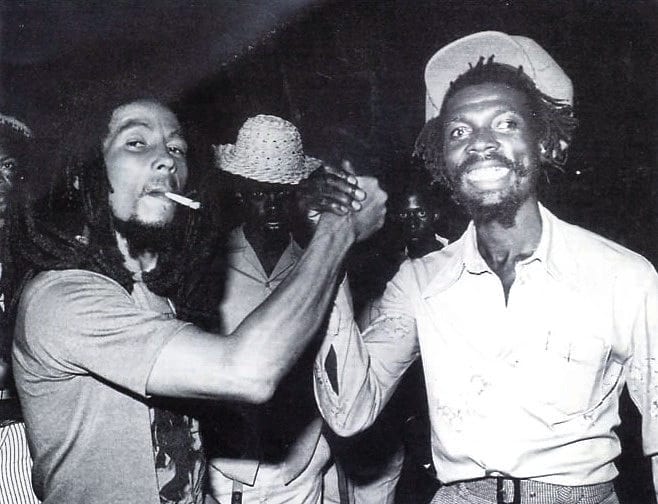 The Great Bob Marley & The Great Joseph Culture Hill
Touching briefly on the extensive history of Culture confirms that the group has been, and continues to be, one of the finest and most active voices in reggae music. A look at the distinct roles Culture demonstrates within their music reveals precisely why fans continue to revere them and why the group continues to thrive. As leader of Culture, Joseph Hill takes on many different professions, leading the listener along diverse paths and offering varied visions into the world at large. One such role that Joseph Hill assumes is as motivational speaker, building the listener towards the realization that each individual can make a difference in this world.
Culture's "Natty Never Get Weary" (Cumbolo, 1979) acknowledges that suffering exists in all areas of the world and that no matter what race we are all in the same position together. Hill states that one can never give up in the face of hard times and difficult positions and one must always overcome these tribulations. Keeping a positive attitude at all times is a key element in the music of Joseph Hill and Culture. The theme of positive action creating lasting change is central in "One Stone" (One Stone, 1996), where Hill's statement, "Rastaman throw one stone / And it bring a bad feeling to all wicked men" works to solidify a common theme in Culture's work, that one person's actions can make for positive change within the world. Culture's music is not sit down and stay silent music, rather the music becomes the motivation for taking action.
In order to enlighten the minds of listeners and allow for change to begin, Hill and Culture have to first expose wrongs in the world. This role as a singing journalist enables Hill to report situations that he witnesses and warn others about them. "Natty Dread Taking Over" (Two Sevens Clash, 1977) affirms that a change has already begun, and Hill is on the scene reporting that a revolution of positivity is taking place, destroying evil ways and wicked people. This musical report acts as a catalyst for showing others that the time is now to join in creating lasting quality change. Hill as singing journalist is in the truest definition of the word, embodying honesty, forthrightness and a handle on what is taking place.
Hill's upfront approach lends him the ability to comment about topics that are usually ignored in mainstream journalism, including drug abuse. "Crack In N.Y." (Nuff Crisis, 1988) takes a direct approach to the often lighthearted attitude some people have towards drug use. Hill suggests that drugs, especially crack cocaine, are a force that counteract everything that Hill is fighting for and he wants listeners to be aware of this danger. Hill believes that the peace running through our minds is eaten away by this drug and he takes it upon himself to warn any who will listen. Hill/Culture are usually only given credit for having 'apocalyptic' messages on their debut Two Sevens Clash album; however, Hill continually has the ability to foresee humankind's demise and warn the world while there is still a chance to set things right. A song like "Crack In N.Y." and his overall reporting craft demonstrate that Hill always remains current with topics and sees the entire problem long before most others ever get started looking.
Within the role as prophetic news reporter, Joseph Hill adopts the personas of preacher and mystic/shaman. This position is presented in songs that range from end-of-humanity prophecies to pleading messages that attempt to alter negative actions. The word preacher often takes on a negative connotation (as it did in Marley's songs occasionally), but within Culture's verses, the messages come across as genuine and Hill deflects any comparison to a money-hungry and false preacher. "Blood In A Babylon" (Trod On, 1993), a gem that was originally recorded during the group's late-1970s Sonia Pottinger produced days but not released until 1993, is a song that sees Hill stepping onto his pulpit and summoning down a condemnation of the ills of Babylon and triumphing the oppressed and overlooked. "I hail if Babylon kills one more Rastaman, I say / The sun will stop from shining / The grass will stop from growing." His prophecy of the world's destruction that stems from the death of innocent lives, advances Hill beyond the preacher role when he offers a simple and tangible solution: stop harming pure hearted people and the world shall be a better place.
The healing power of a shaman is invoked by Hill in his belief that love is the key to a happier life for all of humankind. "Loves Shines Bright" (Harder Than The Rest, 1978) is more of a pleading message than a warning, where Hill urges that love is an extremely powerful force in the world and is the creator of everything. "Love shines brighter than the morning sun / Love shines brighter everyday." This love can be any type of love, but most importantly a love for humanity that puts forth positivity for everyone involved. Hill's insight and wisdom into this notion seems not to come from guesswork but from a direct vision into the future and an understanding of what steps will make the world a better place.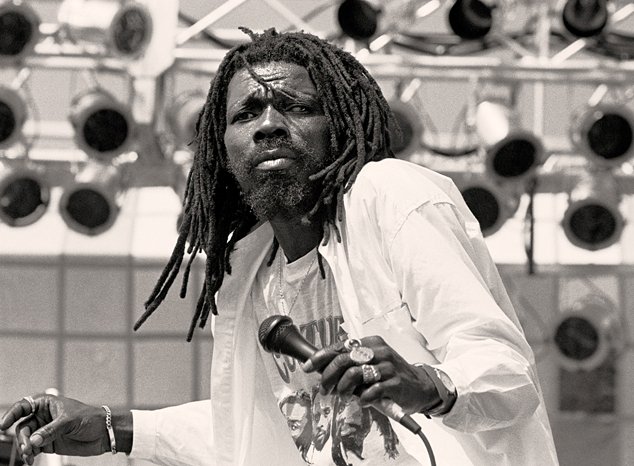 Culture's lyrics not only put forth a great deal of prophetic visions and a deep knowledge of the future, but offer a strong sense of history as well. Just as fans are drawn to Culture to be uplifted, awakened, and guided, Joseph Hill's role as historian allows fans to learn the foundation of Culture's messages. As Culture's name implies, Joseph Hill serves up cultural history, especially in a song like "Down In Jamaica" (Cumbolo, 1979). "Down in Jamaica where Garvey come from / One of earth's greatest prophets was born down in Nine Miles, St. Ann, JA / He was going about prophesizing equal rights and justice to the nations that know." Hill dispels the notion in many peoples' minds that reggae is summer party music for getting high to; instead, he gives knowledge of the fact that reggae music has deep roots and draws from an extensive history. Hill schools both the informed and uninformed about a history that many are unaware of and gives voice to people in history like Marcus Garvey, Paul Bogle, Haile Selassie, Martin Luther King, Jr. and many others.
Throughout all of these roles, Joseph Hill takes a leadership position that fills a void within listeners' lives by guiding them to a more fulfilling way of life. Hill acts like a shepherd leading his congregation to a better place, whether existing as a state of mind or physical location. This ideal state relates to the Ancient Greek notion of Arcadia, a peaceful place removed from the rest of the world's evils. In the reggae lexicon, Zion is this place and not only is Culture a frequent visitor to this land in their songs, but reggae music often draws from this fabled location. Arcadia and Zion are not the same ideas as being able to go someplace like Heaven after one dies; instead, this is a kind of heaven directly on earth. In "Slice Of Mount Zion" (One Stone, 1996), the lines "A slice of Mount Zion is for I / I pray to Jah honestly / To please let me live honestly / Love my brother that's all I need / I need no riches just harmony" examine a behavior-equals-reward relationship. Zion is a metaphorical place given to those who put forth conscious and positive actions.
The Arcadian/Zion theme is seen repeatedly in the Culture catalog, especially in a song like "Zion Gate" (Baldhead Bridge, 1978), where Hill praises this idyllic land where everything exists in total harmony and sits ready for those right-minded people. Joseph Hill as shepherd corresponds to his similar role as a train conductor figure, connecting enlightened people with a rewarded destination. Culture's rendition of the traditional "This Train" (Africa Stand Alone, 1978) alludes to this figurative train conductor, carrying only the righteous people to a better place. This better place consists of an Arcadian created state of mind rather than a physical location. Hill shows within "This Train" that having a positive outlook in life creates a positive mental path that is bound for good things.
Listening to Culture leaves the lasting impression that the group genuinely cares for their audience. Whether wanting its listeners to live more positive and rewarding lives or informing them of topics to consider, the group has made a career as advocates for the suffering, the oppressed and the guidance-hungry peoples of the world. The group's "I'm Worried" (Culture At Work, 1986), demonstrates Hill's heartfelt emotion exhibited through his weeping singing style, which he incorporates into many of his songs.
The figurative tears that Hill sheds are not just those of someone who watches problems at a great distance; rather, the emotion expressed in this and many other songs shows that Culture truly understands peoples' troubles. The non-glamorized lyrics, "I'm worried, worried over the ghetto / This one have a gun, that one have a gun / Just dying to shoot down one another" touch deeply within the listener and reveal a major reason why fans continue to turn to Culture. The group's ability to humble themselves and show that they too have fears, concerns and troubles, only strengthens the bond between the group and everyday people.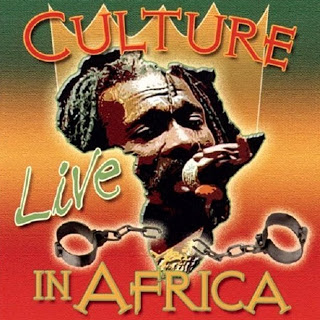 The culmination of Culture's talents and great ability to reach deeply into audiences is no better exemplified than in the group's newest jewel World Peace on Heartbeat Records, released in June 2003. The album acts as a musical biography allowing the listener to experience the past, present and future of the group's messages and sounds. The album's songs are a blend of old and new, traveling the listener through the historic periods of the group's career. "Selection Train" reworks a classic from Hill's early Soul Defender days while "Never Get Weary" and "Holy Mount Zion" revisit their late 1970's Sonia Pottinger produced versions.
Throughout Culture's existence, the group has continually reworked their own material for inclusion on successive albums, a trait that reinforces the power of the song's messages by showing that the songs are still as relevant and timeless today as they were then. The sounds that define Culture are still strong on the new album including horns, Rastafarian nyabinghi drumming elements, all-around roots reggae music, and once again they surround themselves with the finest musicians in reggae. This is in addition to the perfect production and arrangements from Mr. Hill himself.
Culture has never been a group to rest on their previous accomplishments alone, and World Peace is just the latest example that shows they are still making new and equally vital sounds after all of these years. The varied roles that Joseph Hill and Culture have cultivated throughout the years to achieve the adoration and respect from listeners are abundant on World Peace. Joseph Hill's motivational speaker role shines ever bright on "Walk In Jah Light," a song that tells the listener that looking at what one does not possess in life is not important. What is important is an understanding that by moving away from one's earthly possessions and onto a more spiritual level, one's life can be happier.
Joseph Hill as news reporter broadcasts timely messages in the title song "World Peace" and others like "Gun Put Down" and "Coming Down," demonstrating Culture's ability to discuss and make sense of the most current problems facing the world. No matter what role Culture chooses to use, the fact that they still play with the same heart and level of feeling that they started out with is a testament to their great level of dedication. World Peace brilliantly reveals how much Culture still has to offer to the world. Their desire to strive, thrive and release quality creations sets the group apart and places them on a plateau reached by very few.
The definition of an ultimate artist is one that delivers on every possible level of enlightenment and entertainment. This artist must provide the strongest lyrics that guide, motivate, empathize, accurately report, and at the same time that artist must heed the very messages they put forth. If such an artist exists, then surely Joseph Hill and Culture are such an example. People gravitate to music for many reasons, but to ensure a continued return to an artist, that artist must help to fill the voids that exist in all of us.
Over the years, Joseph Hill has mastered certain roles and professions within his larger roles as singer/songwriter/arranger/producer that fill these voids. Their music captures fans on the first listen and continues to nourish with every new song the group releases. These nourished fans in turn provide Joseph Hill and Culture the motivation and inspiration the group needs to keep creating vibrant, honest and vital music for nearly three decades. Like an abundant harvest that continues to feed, Culture's voice continually nurtures willing listeners with each potent release. If ever there was an energy that belonged in the hearts and minds of music fans, surely Culture is this force.
News Source ( http://www.furious.com/perfect/culture.html ) Perfect Sound Forever online music magazine