| | |
| --- | --- |
| Nickname | Sister Julie |
| Full name | Julie Anne Corby |
| Country | British Canadian |
| Genre | roots rock reggae, lovers rock, and roots and culture dancehall |
| Activity | Singer/Songwriter, Creative Visual Artist & Fine Arts & Graphic Arts, Knit & Crochet Handiworks, & Fashion Designer |
| Instruments | Lead Vocals & Harmony |
| Members | SELASSIE iPOWER roots rock reggae band |
| Facebook | https://www.facebook.com/Sister-Julie-Julie-Anne |
Sister Julie (Julie-Anne Corby) is an outstanding singer/songwriter, a multi talented Canadian reggae recording and performing artist. She was born in The UK, but her family immigrated to Canada at an early age. She grew up in the Montreal Quebec area of Canada until she moved to Toronto and started doing music full time.
Sister Julie is also known for her great work as the original harmony singer in The SELASSIE iPOWER roots rock reggae band alongside Rasta Reuben Kwabena and Fredlocks Asher. She is also a foundation member of the original SELASSIE iPOWER Harmony group, which also featured Marcia Levi Collins & Yolissa Dalamba and several other outstanding female vocalists.
Together they sang harmony on the classic SELASSIE iPOWER debut album known as "King of Kings" featuring Rasta Reuben Kwabena on lead vocals. The album went on to win the 1998 Canadian Urban Music award for Best Reggae Album. Sister Julie also sang harmony on the two SELASSIE iPOWER follow up albums Reggae Planet (Volume 1 Revelation 21) & Reggae Planet Volume 2 Revolution 22.
In addition to singing and song writing Sister Julie is also an excellent creative visual artist, who specialises in arts & crafts as well as creative artwork paintings. She is also a fabulous and colourful reggae fashion designer. She is a visionary Rasta Woman, with a spiritual and humanitarian worldview of One Love and Equal Rights & Justice in her overall message. In this regard both her music and her artwork centers around various Cultural Rasta Themes.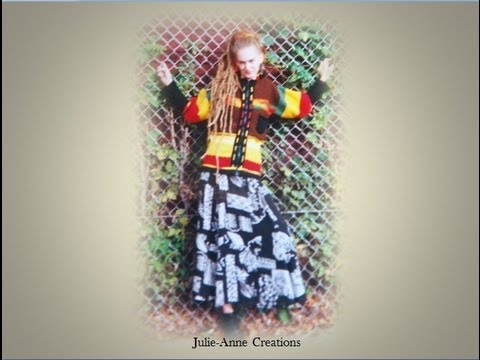 Julie-Anne has created many impressive artworks, paintings, and fashion designs. She has created beautiful works of art and designed outstanding stage outfits for various Jamaican/Canadian Reggae performers, including classic stage outfits for Rasta Reuben Kwabena and for many others including a series of hats for Sister Carol that had the names of all her albums. She has made hats for many of the Reggae community going back to the early 80s.
In her early teenage years, she joined the Rastafarian organisation The Twelve Tribes of Israel and contributed greatly to the creative arts department of the organisation. Originally in the early years of her music career, she started out singing and performing as a member of the TTOI band which was based in Montreal Quebec and did several large celebrations per year at local halls.
Eventually she relocated to Canada's biggest city Toronto, in Ontario Canada, where she continued to pursue her music career as a singer/songwriter and performer. Soon she joined the lively cosmopolitan and multicultural reggae music scene, performing on various concerts in and around the city.
Gradually she started performing regularly at The House of David club as a featured guest singer alongside the Toronto reggae band, King Selah & The House of David Gang. In those days Rasta Reuben Kwabena was the resident bass player in the House of David Gang and Fredlocks Asher was the keyboards player.
A painting by Toronto Artist Lyn Goldenthal of Sister Julie, alongside SELASSIE iPOWER Muzik brothers Fredlocks Asher on the left & Rasta Reuben Kwabena on the right in front of our Kensington Market store in the 1990s.
After a while, Sister Julie Anne teamed up with Rasta Reuben Kwabena on lead vocals and Fredlocks Asher on lead vocals and keyboards, alongside with Chris Shim on guitars & David (UncleDropsi) Phinn on bass with John Goddard on drums to help to form the SELASSIE iPOWER roots rock reggae band.
The great Jamaican/Canadian drummers Sunray Grennan and Raffa Dean also played crucial important roles as additional drummers and harmony singers both on stage and in the recording studio with the SELASSIE iPOWER roots rock reggae band. The band has also worked with about 30 other of the most talented Reggae musicians in Toronto and around Canada, over the years depending on what type of show and where it was located.
Together with The SELASSIE iPOWER Band she has toured extensively all across Canada from the East Coast to the West Coast and up to the Yukon. For six years, she had relocated to the beautiful coastal city of Vancouver BC Canada, where she performed regularly in the city and in the surrounding areas and toured around the country. In recent years she has focused more on her solo artist work and she has recorded several songs as a lead singer/songwriter. Sister Julie also wants to write songs for other singers and this is something she is also working on.
Currently Sister Julie is residing in Montreal again, where she now continues to create outstanding Rasta cultural artworks and beautiful reggae fashion designs. She also continues to perform on stage at various cultural events and music festivals performing at many local venues along with performances on Reggae Fest, Jamaica Day and Taste of the Caribbean. She periodically performs in Toronto as well.
In addition, she is starting to record more of her songs as lead singer songwriter, and focusing more on her solo artist career. Now she is getting ready to release a brand-new album of songs coming out soon for the worldwide reggae audience and for all lovers of good lyrics and good music in general.
For more Sister Julie information, updates, reviews and upcoming events. Keep readings your Reggae Planet News right here on The Reggae Planet MultiMedia Website @ www.ReggaePlanetRadio.com