Rita Marley aka Alpharita Constantia Anderson is a Cuban-born Jamaican singer and the widow of Bob Marley.She is also an original foundation member of the vocal harmony group the great I Threes, along with Marcia Griffiths and Judy Mowatt, who gained recognition as the backing harmony vocalists for Bob Marley and the Wailers.
Rita Marley was born in Santiago de Cuba, to Leroy Anderson and Cynthia "Beda" Jarrett. She grew up in the upper level of Beachwood Avenue, located in Kingston, Jamaica. In her book No Woman No Cry: My Life with Bob Marley, she describes how she was raised by her Aunt Viola on Greenwich Park Road.
In the mid-1960s, Rita met Bob Marley after meeting Peter Tosh. After it was learned that she was a singer, she was asked to audition for the Soulettes. The group included Rita, her cousin Constantine "Dream" Walker, and Marlene "Precious" Gifford. During this time Bob Marley worked together as a member of the Original Wailers vocal trio along with Bunny Livingston and Peter Tosh. At that time Bob Marley also became the group mentor and manager for Rita's singing group known as the Soulettes, and through working together, Bob and Rita eventually became in love together with eachother.
The Soulettes released several recordings including reggae rocksteady tunes such as "Time for Everything", "Turn Turn Turn" (released in 1966, this was a cover of The Byrds' hit song based on a Bible quote) and "A Deh Pon Dem".
"Friends and Lovers", "One More Chance" and "That Ain't Right" (featuring harmony vocals by the Wailers), as well as a duet by Rita and Bunny Livingston, "Bless You" were issued years later on the
Lovers and Friends
album.
After those early recordings for the Studio One label coached by Bob, Rita married the legend Bob Marley around February 1966, just before he moved to Wilmington, Delaware (USA) for a few months to make a living working at the Dupont Hotel there. During that time Bob was breifly replaced by Constantine "Vision" Walker, who recorded a few songs as a member of The Wailers during this period.

The Wailers
Upon Bob's return at the end of the summer of 1966, Bunny Livingston aka Bunny Wailer, Peter Tosh and Bob Marley created their independent label Wail 'n' Soul'm Records, which released several Bob Marley and the Wailers, as well as Peter Tosh and the Wailers 45RPM single records including, Bend Down Low, Hypocrites and Tosh's Dem Haffi Get a Beatin' in 1966-1968.
As Bunny was jailed in 1968 for cannabis possession, Rita joined the Wailers, replacing Bunny for a few months. It is at that time that The Wailers met U.S. singer Johnny Nash, who produced a series of Wailers rocksteady recordings. In April 1968 Nash's manager, Danny Sims signed Peter Tosh, Bob, and Rita Marley to exclusive publishing, management, and production contracts in exchange for a few dollars and an opportunity to record in Kingston Jamaica for the New York based JAD records label owned by Johnny Nash, musician Arthur Jenkins and Danny Sims.
Musicians on this 1968 Wailers session feature Peter Tosh and the Marleys. Rita sang vocals on a dozen fine reggae rocksteady and soul tracks, most of which were not issued at the time. New recordings of Bend Down Low and Mellow Mood got issued as singles in the U.S.A. The original 1968 sessions including all of the original musicians eventually surfaced on the Freedom Time album issued in 2003 by JAD's partner in France (55 Records) after producer Bruno Blum finally mixed them in Paris from the original four-track tapes. One song, "Play Play Play", features Rita Marley on lead vocals with harmonies sung by Peter and Bob. Another Rita Marley sung tune, "Lonely Girl", and a pop duet with Bob, "Milk Shake and Potato Chips", were finally released in 2003 on the Rebel JAD/55 long box set.
The I Threes
Following the birth of Bob and Rita's second child, David, aka Ziggy Marley in 1968, Bob returned to Delaware in 1969 to work on the night shift in a Chrysler factory. Bunny had returned to the Wailers at the end of 1968 and Rita did not record with Bob again until 1974, when her husband formed the I Three harmony vocal group featuring Marcia Griffiths and Judy Mowatt to replace Peter Tosh and Bunny Wailer, who had left the band in 1973 to focus on their solo careers..
Together with the I Threes, Bob Marley & the Wailers recorded the classic Natty Dread album in 1974 and many more, first rising to international superstardom in 1975 with "No Woman No Cry". It was followed up by the 1976 smash hit album Rastaman Vibration.
On 3 December 1976 two days before "Smile Jamaica", a large free concert organized by Bob Marley with the support of Jamaican Prime Minister Michael Manley, Rita, Bob, and manager Don Taylor were wounded in an assault by gunmen affiliated to Marley's opponents inside the Marley home. Rita survived a shot to the head and Taylor sustained serious injuries from being shot in the leg. Bob Marley had a bullet skid his chest and wound his arm. Bob nevertheless played this major show in Kingston, then went into exile. Bob Marley, the Wailers, and the I Three, including Rita, moved to London in late 1976.
After Bob Marley's death in 1981, Rita Marley continued on with music and she recorded a few albums under her name with some success in the UK. A 1982 cover version of the Love Joys's song "One Draw" was a successful single in Europe. In 1986, Rita decided to convert Bob Marley's home into the Bob Marley Museum. She is the Founder and Chairperson of the Robert Marley Foundation, Bob Marley Trust, and the Bob Marley Group of Companies. She adopted 35 children in Ethiopia and has assisted over 200 children in Konkonuru Methodist School in Ghana.
In 2000, Rita Marley created the Rita Marley Foundation, a non-governmental, not-for-profit, non-partisan organization that works to alleviate poverty and hunger in developing countries. It specifically targets elderly and youth. It has given out a number of scholarships to music students in Ghana. It hosts the annual Africa Unite concerts which strives to spread global awareness about issues that affect Africa and to develop lasting solutions.
In 1996, Rita Marley was awarded the Order of Distinction by the Jamaican government, and in 2010 she received the Marcus Garvey Lifetime Award. On the 3rd August 2013, she was made an honorary citizen of Ghana by the Ghanaian government. In November 2015 rita Marley was awarded an honorary Doctor of Letters degree by the University of the West Indies.
Rita Marley is perhaps best known as the widow of Bob Marley The legendary King of Reggae, in this regard she is often also called the "Queen of Reggae," She has spent a lot of time and energy as the guardian of her late husband's estate and musical legacy, and, more important, as the keeper of the flame of his ideas. But her role in the history of Jamaican music has not been limited to her relationship with Bob Marley.
In the mostly male-dominated field of reggae, she was a solo act of note before she ever joined with her husband musically, and she emerged as a successful artist on her own after his death. Moreover, as part of Bob Marley's backing trio of female vocalists, the I-Threes, which featured Rita Marley, Marcia Griffiths & Judy Mowatt; They are all important contributors to the greatness of the music that made Bob Marley famous worldwide. Rita Marley has also emerged as an important booster of economic development and self-sufficiency in her adopted home country of Ghana (West Africa).
Rita Marley was born Alpharita Constantia Anderson in Santiago de Cuba, Cuba, on July 25, 1947 to Leroy Anderson and Cynthia "Beda" Jarrett. Growing up poor, she was abandoned by her mother when she was just 5 years old, Rita and her brother, Wesley, were raised by their father and an aunt Viola in the neighborhood of Trench Town, Kingston, Jamaica. Their mother raised their other brother, Donovan.
When she was just 13, Rita was left in her aunt's care when her father moved to England to look for work (he reportedly told her that she would join him later, but that move never happened). After high school, Rita attended the Bethesda School of Practical Nursing, but an unexpected pregnancy derailed her education. She had her first child, a daughter named Sharon, in 1964.
Kingston, Jamaica has spawned the careers of many of the musicians who created a rhythmically complex, spiritually inclined new music called reggae. Three of those musicians, who had formed a trio called The Wailers, often passed by the metal shack where Rita was living with her aunt and small child. The Wailers consisted of Bob Marley, Peter McIntosh (aka Peter Tosh) and Bunny Livingston (aka Bunny Wailer); they were among the first acts to record at the influential studio of producer Clement "Coxsone" Dodd, who ran the Studio One record label. Bob Marley, already a standout talent, made a special impact. "I remember how I would scream to hear his songs on the radio," Rita Marley told Interview.
An aspiring singer herself, Rita asked The Wailers group to set up an audition with Mr. Dodd for her to record at Studio One. The eighteen year old singer succeeded at the audition and was joined with her cousin, Constantine "Dream" Walker, and friend, Marlene "Precious" Gifford; the trio became known as the Soulettes, with Bob Marley as their mentor/ music producer. The Soulettes scored several hits under Bob's leadership, and had a hit with the song "I Love You, Baby", and sometimes sang backup on some of the Wailers' early recordings. Rita also had a few solo hits of her own, most notably "Pied Piper".
What was at first a purely professional relationship between Rita and Bob, eventually took a new turn into a full blown relationship of love. The two married in 1966. They welcomed their first child together, daughter Cedella Marley, in 1967. The following year, the couple had their first son, David, who is now best known as Ziggy Marley. In those early days Rita and Bob struggled both financially and professionally. They spent some time in the United States, working for singer Johnny Nash's JAD Records in the late 1960s and living with Bob's mother in Wilmington, Delaware, for a time.
In the early 1970s, Rita returned to her mother-in-law's home in the US, to live and work, hoping to improve her family's financial situation. Rita had her son Ziggy Marley with her at the time, with her daughters staying with her aunt, but she decided to go home to Jamaica after giving birth to son Stephen Marley in 1972.
After the Wailers signed with Island Records in 1972, things began to slowly but surely turn around towards international success. The group had their first album with the Island Records label, Catch a Fire, released internationally the next year, and they began to attract critical attention. This was followed up with the relese of the album Titled "Burnin" in 1973. With their popularity on the rise, The Wailers toured the United States and Europe. In 1974 Rita Marley gave birth to her fourth child known as Stephanie Marley.
It is said that Rita Marley also helped to inspire her husband Bob Marley in what became the central spiritual tenet of their music (the Jamaican variant of Christianity known as Rastafari). She who turned out for a personal appearance of the official visit to Jamaica in Aprill 1966 by Ethiopian Emperor Haile Selassie I (thought by many Rastafarians to be the returned Messiah, Jah Christ) On this occasion she noted that she noticed marks on his hands that she believed were the nail scars left by Christ's crucifixion. Rita converted to Rastafari and helped to inspire her husband to do the same. One of the recordings that would really launch Bob Marley's fame as a solo artist and bandleader in the early 1970s is Jah Live, an anthem written about the Everliving Power of Haile Selassie I.
For that record, Bob Marley assembled another backing trio, dubbed the I-Threes, consisting of Rita Marley, Judy Mowatt, and Marcia Griffiths; all of whom would go on to important solo careers. The I-Threes evolved into a fundamental component of the reconstituted Bob Marley & The Wailers, which over the course of the 1970s forged an internationally popular music that featured a language of its own that expressed Rastafarian concepts; a distinctive look featuring natty dreadlocks; and a political worldview that looked to the eventual overthrow of the white elites colonialist system which continued to linger over the peoples of Africa and over The AfroAmerican and The AfroCaribbean diaspora. Their first official recorded album together is The classic Bob Marley & The Wailers album known as Natty Dread which was released in 1974 on the Island Records label.
With Bob Marley & The Wailers, Rita Marley & The I-Threes toured the world, appearing as far afield as newly independent Zimbabwe. The I-Threes also appeared on their own, and Rita Marley was making plans to release a solo album before Bob Marley died of cancer in 1981, at the age of thirty-six.
In 1982 Rita Marley went ahead with plans to release the album, "Who Feels It Knows It". Far from being a funeral dirge lamenting Bob's death, the album showcased Rita's musical personality. It contained a comic piece about marijuana in the song known as "One Draw", which was banned by radio stations due to a passage in which a schoolteacher instructs her students in the enjoyment of the drug. The controversy fueled sales of the album, and Rita went on to record two more successful albums in the 1980s, released in the United States on the roots-oriented Shanachie label.
The 1990 album We Must Carry On, which included several previously unknown Bob Marley compositions, was nominated for a Grammy Award. She also contributed backup vocals to albums by other artists ranging from West African reggae star Alpha Blondy to Haitian-American rapper Wyclef Jean.
Rita Marley has a total of six children: Sharon, Cedella, David (Ziggy), Stephen, Stephanie, and Serita; Much of Rita's energy in the 1980s, however, was devoted to the care of her husband's legacy in various ways. She is the chairperson of The Bob Marley Foundation, a charitable organization dedicated to helping people fight poverty and hunger in developing countries, and curator of Bob Marley Museum, in Kingston, Jamaica. Rita also works to preserve Bob's music and memory through numerous events, including the annual Bob Marley Birthday Celebration in Jamaica.
In 1998 Rita established the Rita Marley Foundation as a sister organization of the Bob Marley Foundation. Both foundations served as the bases for Marley's work to help residents of impoverished areas become more self-sufficient. A few years later Rita moved to Ghana (West Africa), where she both lives and runs her foundation, as well as a recording studio, African branch of the Marley family's empire of recording and production operations. There in Ghana (West Africa), through her foundation, she has distributed vaccinations, furnished schools, helped develop community agricultural projects, and delivered needed household goods to remote villages.
Meanwhile , she continued to record and tour extensively, releasing several albums during the first decade of the twenty-first century, and producing albums for other musicians, mostly her own children. In 2004 Marley published a memoir, co-written with Hettie Jones, called "No Woman No Cry: My Life with Bob Marley". The book recounted in wrenching detail the story of their relationship, from the streets of Trench Town in Kingston Jamaica to the heights of international stardom.
Rita Marley also continued to pursue her solo career, releasing albums such as Sunshine After Rain (2003) and Play Play (2004), and performing live. In 2008, she joined Marcia Griffiths and Judy Mowatt of the I Threes to perform at the Africa Unite concert in Addis Ababa, Ethiopia. She produced several albums by her son Ziggy Marley and her other children and other upcoming artists etc; On the 3rd of August 2013, Rita Marley was made an honorary citizen of Ghana by the Ghanaian government.
Today she continues to upkeep The Bob Marley Foundation and The Rita Marley Foundation as well as the overall Marley Family Enterprise most noteably in association with her daughter Ceddela Marley and also in association with all her other children and grand children.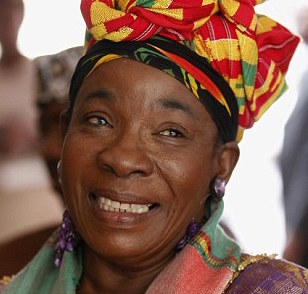 Sources:
http://www.encyclopedia.com/topic/Rita_Marley.aspx
http://www.biography.com/people/rita-marley-297418
https://en.wikipedia.org/wiki/Rita_Marley
Top Tracks
1
One Draw
2
Harambe
3
So Much Things To Say
4
Keep On Pushing
5
I Know A Place
6
A Jah Jah
7
Who Feels It Knows It
8
That's The Way
9
When Festival Is Over
10
King Street
Top Albums
Who Feels It Knows It
tracks