Marcia Llyneth Griffiths is a Jamaican singer. She is considered the most famous female singer in Jamaica and is also called "Queen of Reggae". Griffiths started her singing career in 1964. She formed with Bob Andy from 1970 to 1974 the duo "Bob and Marcia", which made both internationally known. From 1974 to 1981 Marcia Griffiths, along with Judy Mowatt and Rita Marley , was a member of I-Threes , the background vocal trio of Bob Marley & the Wailers .
Marcia Griffiths started singing professionally in 1964, for Byron Lee and the Dragonaires band. Her recording years started soon after, at Coxsone Dodd's - Studio One where she recorded her first hit "Feel Like Jumping." While recording at Studio One Marcia teamed up with Bob Andy and many duet recordings followed. Following that duet success, she went solo again on the High Note label with Reggae's sole established female producer - Sonia Pottinger - hitting with several songs. Ten years after entering the music business, Marcia united with Judy Mowatt and Rita Marley to form the I-Threes as an important part of the Bob Marley entourage.
Today she continues to be an outstanding recording and performing artists, an excellent and magnificent female singer in the overall international Jamaican Reggae Music scene who has been successful and fully active for over 50 years in the music biz. Born in Kingston in 1949, she later attended the Kingston Senior School and sang alongside in the church choir. And it is precisely this institution that is an important reason for the mass of well-trained singers on the little Caribbean island.
Griffiths participated in school performances and also sang with friends in her free time. On one such occasion, she makes the acquaintance of the friend of an older friend, the singer Phillip "Boasie" James of the Blues Blusters. In turn, he likes the voice of the young Marcia and so he links her up to meet with Byron Lee, the band leader of the Dragonaires.

Through this connection, she lands at one of the numerous talent competitions in the Kingston "Carib Theater". There she plays the Carla Thomas song "No Time To Loose", whereupon the audience promptly asks for an encore. Her performance is even so good that she makes her television debut the same evening in a JBC studio.

It is said that both Byron Lee and Studio One boss Coxsone Dodd had then vied for the signature of her father, because Marcia is at this time under Jamaican law, only limited legal capacity. But because Marcia likes Mr. Dodd well, he gets the paternal autograph. Under Dodds Ägide, she uses Studio One as a kind of music college, records her debut single "Wall Of Love" in 1966, and in 1968 she lands her first Numero One hit, the evergreen "Feel Like Jumping".
In the Studio One environment she comes in contact with songwriter and singer Bob Andy at that time. Some of their really good tunes of that time are from his pen and they start recording duets as Bob And Marcia. In 1969, with their reinterpretation of Nina Simone's "Young, Gifted And Black" for producer Harry J, they celebrate such great success that even the UK market is drawn to their attention. After the two already enter the local charts in 1970 with this song, they succeed with another hit song in 1971 known as "Pied Piper" They then went on to tour in England for awhile. Eventually after the England tour theyboth returned to Jamaica and continued their own solo recording and performing careers. Soon there will be a ladies cooperation of the highest magnitude: Marcia Griffiths lands at the High Note label of the producer Sonia Pottinger.

A very important step in Griffiths 'career comes from the departure of The Great Singers Bunny Wailer and Peter Tosh from the Wailers' harmony for Bob Marley. The future reggae superstar Bob Marley now feels compelled to re create a strong harmony section for his band. This results in Marcia Griffiths teaming up with Rita Marley, and Judy Mowatt to form the I-Threes as the new Harmony section for Bob Marley & The Wailers Band.

The impact of this collaboration with Bob Marley further helps to highlight the quality of Marcia Griffiths vocal talents. Marcia never gave up her solo career, eventhough she was very busy rehearsing, recordings and touring with the I-Threes and Marley, she still continued to record solo material. During the 1980s the I-Threes release two full lenth albums and a few singles.

Equipped with the reputation to have worked with Marley, nothing stands in the way of a successful continuation of her work. In the 80s, Marcia is extremely productive, presents quite a few albums and hit singles, with her hit record in 1982 known as "Electric Boogie" which also became a top seller in the USA. In addition, she has encountered fewer problems with the digitization of reggae and the resulting upheavals and currents than other artists of her generation. This is proven, among other things, by the successful collaboration with producer Donovan Germaine from the penthouse label in the late eighties to the nineties.
Meanwhile, Marcia Griffiths is globally recognized with the title of "Queen Of Reggae", which is not surprising given her outstanding musical history and also due to her profound contribution to the international growth of reggae music. Because to this day she continues to perform all around the world and she also continues to keep up a constant high output of new songs which usually find themselves again and again on high positions on various reggae music charts worldwide. Over the years she has relaesed numerous outstanding solo recordings as well as excellent collaborations with other great artists such as Beres Hammond, Buju Banton, Busy Signal, Tony Rebel, Queen Ifrica and Daville and many more.

Recently in the spring of 2019 Marcia Griffiths The Queen Of Reggae returned to the recording studio teaming up with the legendary Toots & The Maytals to work on a new reggae ska medley album featuring numerous love songs. Do remember to look out for this brand new album from Marcia Griffiths The Queen Of Reggae and also be on the look out to see her performing live in concert in a city or town nationally and internationally where ever you live, work or travel on The Reggae Planet.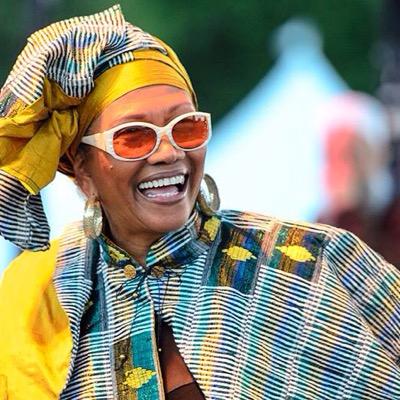 Discography
Albums
At Studio One (live)
Sweet Bitter Love, 1974
Naturally, 1978
Stepping, 1978
Rock My Soul, 1984
Marcia, 1988
Carousel, 1990
Indomitable, 1995
Land Of Love, 1997
Collectors Series, 1998
Truly, 1998
Certified, 1999
Reggae Max, 2003
Shining Time, 2005
Melody Life, 2007
Top Tracks
1
Feel Like Jumping
2
Don't Let Me Down
3
Gypsy Man
4
Electric Boogie
5
Dreamland
6
The First Time Ever I Saw Your Face
7
Melody Life
8
When Will I See You Again
9
Tell Me Now
10
Put a Little Love In Your Heart
Top Albums
Put A Little Love In Your Heart

tracks
Play Me Sweet and Nice

24 tracks