HOUSE OF DAVID GANG
The House of David Gang takes its name from the legendary House of David afterhours Music Club House on Queen Street West in Toronto (Ontario Canada), where King Selah, Jahlin Edwards, Rasta Reuben Kwabena, Fredlocks Asher, UncleDropsi, Sister Julie Anne, Donna Makeda, and the great Glen Washington as well as many other artists from the city's burgeoning Roots Rock Reggae & Dancehall music scene would meet to jam until sunrise.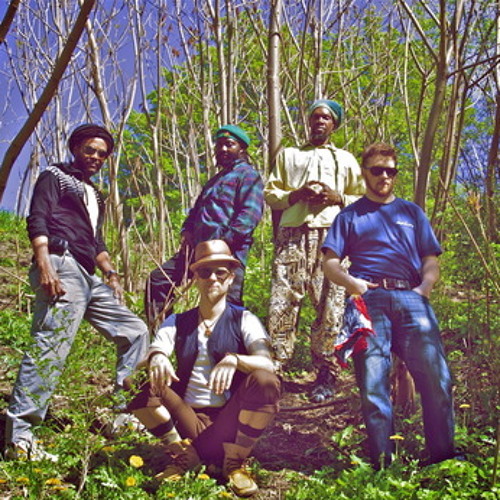 The Band Members have included players from essential Toronto reggae bands such as the Resinators, Explorer Band, Revelation and SELASSIE iPOWER roots rock reggae band etc.
Born in Portland Jamaica, Desmond "King Selah" Anderson is an outstanding original and authenthic reggae singer songwriter and music composer. He is the lead singer and chief songwriter for the Legendary Jamaican/Canadian reggae band known as The House of David Gang based in Toronto Ontario Canada.
Original foundation members are King Selah himself on lead vocals and rhythm guitar, alongside Colin "JahLin" Edwards on drums and percusiions and harmony vocals. Longstanding members include Jay Cleary (rhytm & lead guitar), Snappy Homefry (bass guitar) and Todd Britton (keyboards) and Desmond Wilson aka "Dezi Fingazz" on Keyboards organ and piano.
Additional foundation & contributing members includes The Phinn brothers; Reuben Kwabena Phinn, (aka Rasta Reuben) on bass and vocals, Frederick "Fredlocks Asher" Phinn on keyboards organ, piano, & vocals and David ''UncleDropsi" Phinn on bass and rap vocals, as well as The Davey brothers Chris Davey on guitar and Michael Davey on organ and piano.
Now featuring a new generation of talented musicians and artists alongside founding members King Selah and Collin "Jahlin" Edwards, House of David Gang from Toronto Ontario, is one of Canada's busiest touring reggae band. In the last several years, they have performed on frequent cross Canada music tours from the East Coast to the West Coast.
Their annual
Bob Marley Birthday Tribute
&
Food Drive
Tour
has become a staple of the Canadain music calendar across Ontario, Quebec and Atlantic Canada.
The band takes its name from The House of David, an after/hours music venue on Queen Street West in Toronto that was a major music hotspot for artists from the city's burgeoning Rastafarian roots reggae community in the early and mid 1990s. In many regards, King Selah & The House of David Gang concert performances across Canada have helped bring light to Toronto's outstanding roots rock reggae scene.
Every year many reggae music lovers come out for the The House of David Gang springtime Tribute to The Original Wailers Showcase, where they performed some of their own original songs as well as outstanding Live Performance cover versions of top classics from The Great Wailers Catalog of Bob Marley, Peter Tosh & Bunny Wailer.
The House of David Gang has performed in front of thousands of music fans, at the Harvest Jazz & Blues Festival, Atlantic Jazz Festival, Evolve Festival, Nufunk Festival, The Word On The Street, Ottawa Reggaefest, Toronto Freedom Festival and the Hillside Festival, as well as at RastaFest in Toronto Ontario and Canada Day at Harbourfront Centre, plus Reggae Muskoka in Bracebridge Ontario as well as many more club dates across Canada.
Today, some of the Canada's finest reggae musicians & vocalists, such as 2-time Juno nominee Jason Wilson, 2011 Juno nominee Tonya P and Michael Garrick, often take the stage as special guests along side the House of David Gang. The band has also shared stages with top international artists such as Xavier Rudd, Mighty Diamonds, Big Youth, Bushman, Mad Professor, Dawn Penn, Ill Scarlett and more.
The House of David Gang has also ventured out to the west coast regions of Canada. Along the way they have performed at several major music concert events in Clagary Alberta and on Vancouver Island and in the sorrounding areas of BC Canada. Highlighted by Cross Canada tour stops at Rotaryfest (Sault Ste. Marie), Calgary Reggae Festival (Calgary, AB), Shambhala (Salmo River Ranch, BC), and Reggae Planet Spotlight featuring Rasta Reuben Kwabena & Fredlocks Asher at the prestigious Port Theatre in Nanaimo City Vancouver Island BC.
Lead Singer/Songwriter King Selah & The House of David Gang are known for their uplifting roots rock reggae sound reminiscent of Kingston, Jamaica. "The Reggae Warriors", as they are affectionately known, continues to spread their positive real authenthic reggae vibes, with a sound inspired by the "Three Wise Men of Jamaica" Bob Marley, Peter Tosh and Bunny Wailer; mixed with a modern yet rootsy Canadian feel. The House of David Gang adds a potent mix of caribbean flavour jazz, funk, folk rock and afrobeat to create a true global reggae orchestral sound.
With the release of their album "Reggae Warrior" the band continues to pave their own road as Canada's hardest touring reggae band. In 2012 The House of David Gang earned their nickname as Canada's Reggae Warriors after releasing a legendary roots rock reggae Album, with the outstanding title track "REGGAE WARRIOR" on the NuFunk Records Label.
The "Reggae Warrior" Album was engineered, produced and mixed by Snappy Homefry at Playhouse Studio in downtown Toronto. The album showcases a broad pool of excellent talent. There are over 20 musicians on the Reggae Warrior album which highlights House of David Gang's strength as a roots rock reggae collective.
The "Reggae Warrior" album showcases the power of their uplifting authentic reggae vibes while also showcasing their international musical versitility. In addition to classic reggae songs, the album also contains a pop song "Moments in Time," as well as a folk-roots song "Sunday Morning" and a rock song "Toronto Ontario."
"Reggae Warrior works to remind the reggae faithful of the earthy Queen Street West live vibe, while at the same time showing the band's potential to deliver a modern classic…" ~ Exclaim Music Magazine
"One of the most interesting reggae bands in the country" - Matt Galloway, CBC Radio Host December 2012

"Irie classic reggae sound with uplifting lyrics. Ya mon! It gets my approval!" Carl Harvey, Guitarist for Toots & Maytals

"Canada's #1 Roots Reggae Orchestra" - Reggae Festival Guide.
In 2015 The House of David Gang released "Reggae Warrior Remixed". Which is an amazing and electrifying new remixed version of the original Reggae Warrior Album for all the fans and dance music lovers, who love the musical styles of DUB, Drum & Bass & Electronica etc.
The "Reggae Warrior Remixed" album project is described as "Proper chilled out, but incredibly funky & groovy reggae remixed featuring Deep Roots Dub Music & Heavy Drum & Bass vibes. On this jam, serious bass shakes your sub out of its box, and your windows out of their frame. All the classic elements of reggae dub vibes melts into one big pile of modern dub funk & uptempo electronica. Rhythm guitar, ragga sounds and vocals provide more dub vibes to the original laid back groove and are spurred along by sensational guitar licks."
On the remix of the Reggae Warrior Title Track, you can hear and feel the brilliance of the remix engineers, (Ed Solo & Stickybuds) as they turn up the heat, and the tempo with their excellent electronica dub remix. Keeping somewhat true to the original roots reggae vibes with many of the original stems in play. However! to spice up the "Reggae Warrior ReMix" they also add some super tight drums, some heavy bassline wizardry and smash out an absolute gem that is impossible not to groove to.
In 2018, "The House of David Gang" released a new single and video titled "Good Vibration" featuring Reggae Dancehall artist/producer Gisto who hails from Vancouver BC Canada. This project was a spontaneous collaboration which resulted from studio sessions between House of David Gang & Gisto in his Vancouver studio. These studio sessions took place while the band was on a Western Canada Tour.
The track features the artists experimenting with new elements while maintaining their signature groovy roots reggae sound. NuFunk Records also released several remixes of the groovy track. And in October 2020 German duo CMC & Silenta released an exciting new Drum & Bass remix of the "Good Vibration" song featuring additional vocals by singer Addis Buchanan.
Be on the look out for a brand new full lenth album from the House of David Gang, which is soon to be released in the new year of 2021. Currently King Selah & The House Of David Gang are in the recording studios in Toronto Ontario, working on new material for the upcoming new album. They are also preparing for more concert events and upcoming tours.
For more House of David Gang updates, new releases, upcoming events, interviews and reviews; Stay tuned right here on The Reggae Planet MultiMedia Website @ www.ReggaePlanetRadio.com